And I don't mean Christmas. Don't get me wrong, Christmas is awesome, there's no doubt. BUT this year, the most wonderful time is now because I am DONE with student teaching and have turned in anything and everything that has to do with student teaching. I spent 6 hours at Converse on Monday, filling out forms, submitting my ADEPT Portfolio, and other paperwork stuff, and now I can say I AM FINALLY FREE!!!!
To celebrate, I'm going to make some jewelry! But first, I wanted to show you our itty bitty Christmas trees. Nick is not impressed, but WHATEVER they are awesome! See for yourself:
Here's a closeup of the
fabulous
bowl of all-pink ornaments: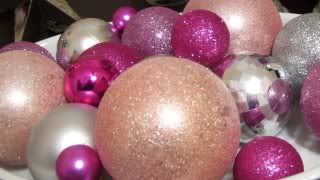 Also, head on over to
Design Gal's blog
for the 11th day of her 12 Days of Christmas Giveaway! I am the featured seller for the giveaway, so you can comment and enter to win a pair of lovely earrings by yours truly!
Tomorrow, you can see me in person at Mia Alexander Salon for their Christmas Open House! I'll be there with a table full of hawleywood gorgeousness that has NEVER BEEN SEEN!! Not on Etsy, not here, not anywhere but my studio (aka, the crap room)!
So, come out Saturday, December 12th from 12-4 for food, wine, lovely salon and spa gift cards, and jewelry!
Adios!